WHAT'S NEW? AT
Enhance Your Lifestyle with "Enhanced Security"
Remember when you bought your first remote control TV? Youwonder how you ever got up to change the channels.
With Wire Excellence's Enhanced Security, you can control yoursecurity system remotely from anywhere in your home, or even when you'reon the road. These new and innovative remote control devices make securitysystems more convenient and easier than ever to use.
Enhanced Security systems can also be customized to control lights andappliances in your home or business. Would you like to turn on a light whenyou approach your house at night? Or turn on a room air conditioner beforeyou arrive home from work?
You can do all that and so much more with Enhanced Security. It's limitedonly by your imagination. Wire Excellence can design an Enhanced Security system that's perfect for your needs. To request more information about Enhanced Security, click here.


click here for video


Honeywell's 7810iR-ENT receiver provides a private network solution combined with the capability to process Internet communications. The 7810ir-ENT Enterprise receiver is capable of monitoring 7845i-ENT Intranet communications within a local area network. The 7810iR-ENT provides a local secure monitoring point for a private network LAN.

The 7810iR-ENT can be easily installed in conjunction with an Honeywell receiver or directly interfaced with the central station automation package. The 7810iR-ENT receiver has an easy-to-use touchscreen that provides a clear and simple user interface. It offers affordable and secure Intranet and Internet monitoring solutions.

The 7810iR-ENT may utilize the Internet to receive signals from any device capable of AlarmNet communications. In this configuration, the AlarmNet Control Center will route signals from AlarmNet subscribers to the 7810iR-ENT. The AlarmNet Control Center is fully redundant and monitored 24 hours a day, seven days a week. AlarmNet has the ability to route messages using the AlarmNet-A, AlarmNet-M, AlarmNet-i and 800 Plus networks; all of which provide true redundancy and the highest reliability in message delivery.

click here for video


Honeywell's AlarmNet has been the nationwide leader in alarm communications technology since 1986. A reliable alternative for the transmission of alarm signals, our radio network provides extensive coverage in the United States and Canada

click here for video


Video Controller Honeywell's Optiflex Interactive Video System provides secure, cost effective video solutions for residential and commercial applications. Installation does not compromise network security or require manipulation of firewalls. The state-of-the-art video controller lets you view cameras around your home or business right at the video monitor, integrated television or on your computer anywhere over the Internet, with the assurance that your privacy is protected with the highest level of data security available.

click here for video


With Honeywell Security's Symphony family of display products you can now offer your residential and commercial customers the most exciting new experience in security, convenience and control. The graphical touchscreen display simplifies their lives and provides easy, centralized fingertip control for a variety of daily tasks. Arming, disarming and bypassing of zones are so easy it can be done intuitively.

By simply following the graphics and menu-driven prompts on the bright, uncluttered touchscreen, security system operation is crystal clear – without any complicated commands to remember or blinking lights to interpret. It goes beyond the conventional keypad, letting your customers add real security to their home while enjoying lifestyle-enhancing benefits they won't find anywhere else.

Symphony comes with the ability to control the security system and provide local lighting and appliance control, with an optional Data Services package, you can display a variety of Internet content such as news, stock quotes, weather, horoscopes and sports scores. Each family member can even have their own personalized screens to view e-mail headers and receive customized information. The Data Services Package also includes the ability to completely control the security system and Symphony remotely over the Internet with an ordinary web browser.


Custom English Hardwired Keypad :
The 6160 Attractively designed white keypad with removable door New easy-touch plastic white keys that are backlit for easy visibility Large 2 x 16 custom English backlit display Three auxiliary keys Backlit keys allow easier operation in low light conditions Built-in Piezo sounder - makes audible "beeps" for entry/exit delays, system status and other alarm conditions Built-in Users Manual on select controls
Talking Alpha Display Keypad :
The 6160V Talking Alpha Display Keypad is easy to install and simple to use. It takes the guesswork out of operating a security system by speaking system status and zone information in plain English. Homeowners can also use the 6160V to record and playback voice messages. The attractive white console blends with any décor, and features a contoured, removable door that conceals illuminated soft-touch keys. The oversized function keys remain easily accessible even when the keypad door is closed. The 6160V also has a new larger and brighter 32-character display with easy-to-read plain-English messages.
Talking Fixed English Display Keypad :
The 6150V Talking Fixed English Display Keypad is easy to install and simple to use. It takes the guesswork out of security system operation by speaking system status and zone information in plain English. Homeowners can also use the 6150V to record and playback voice messages. The attractive white console blends perfectly with any décor, and features a contoured, removable door that conceals soft-touch illuminated keys. The oversized function keys remain easily accessible even when the keypad door is closed. The 6150V has a large backlit fixed glass display that uses three-digit zone numbers
Fixed English Display Keypad :
The easy-to-read, 6148 Fixed-English LCD makes operation simple. The attractive white console blends with any décor, and the contoured, removable door conceals soft-touch rubber keys that are illuminated for greater nighttime visibility. Three separate dual buttons can be programmed to contact fire, police or emergency response personnel with a single touch.
Wireless Bi-Directional Alpha Keypad:
Now, secondary keypads can be used on any VISTA system installation where wiring is either difficult or time consuming. The 5839 provides homeowners with all of the features of a traditional hardwired keypad with an easy-to-read, 32-character display and four function keys for single-button operation.
Wireless Talking Fixed English Keypad:
The 5828V is easy and inexpensive to install, with no wires to run. It mounts anywhere—on walls, tabletops and counters—and provides the flexibility and convenience of operating the system from anywhere in the home. The 5828V also speaks system status and zone information in plain English, and homeowners can use the built-in family message center to record and play back voice messages
Wireless Motion Detector:
Wireless PIR motion detector with pet immunity.
Wireless Door/Window Transmitter:
Two zone transmitter with both built-in magnetic reed switches and wired closed circuit contact loop. Features a standard white or brown plastic case.
Duel tec motion detector:

The ASC Edge:
PET-X: Pet Exclusion Technology
Pet Exclusion Technology, or PET-X, enables the Quest 2135 to identifyhuman intruders and exclude multiple pets and other animals up to a single80 lb. dog. This technology correlates data from the microwave channel with data collected in the PIR channel through a uniquely-designed optical system. Even crawling intruders are detected, while dogs walking throughthe same portion of the pattern are ignored.
To take full advantage of PET-X, the following guidelines should befollowed:

Pet-X (Pet Exclusion Technology)provides true pet immunity
against multiple animals up to an 80 lb. dog

Rejects repetitive motion such as fans

Vertical and horizontal patternadjustment

Microwave & PIR supervision
Two-way Wireless Keypad:
You have complete control of your security system with this handheldremote control. Carry it anywhere around the house, out in the garden oreven use it from your car. It confirms visually and audibly that the commandwas carried out.
Four button bi-directional remote:
The convenience of wireless remote operation is a popular option for home security systems, giving users personal control of their security systems plus home automation of lights and appliances. With one button operation and no codes to remember, the 5804BD is extremely easy to use. Two-way remote control can be worn on a belt or conveniently clipped to a car visor. Gives audible-tone and visual status feedback. 4 button Wireless Key:
With the extra button you can control lights to turn on before you go in your house, or open your garage overhead door and driveway gate.
Telephone Voice Module:
Turns any touchtone phone into a full-function security system keypad.There's never any confusion, because it communicates the status of your systemin plain English (with a 100 word vocabulary!). From now on, if you're onvacation and realize you forgot to arm your security system - you're nevermore than a telephone call away.You can check on or control your security system from any touchtonephone anywhere in the world. The system actually talks to you in plainEnglish.
Click here for ademonstration.(41K WAV file).
Wireless Smoke/Heat Detector:
ADEMCO's powerful 5808LST is a combination wireless photoelectric smoke and heat detector that trips when temperatures reach 135º F. Ideal for difficult to wire locations, situations where room aesthetics are critical, or where hazardous materials exist, the 5808LST provides the ultimate in installation flexibility. Remarkably cost-effective, the attractive, low profile unit blends easily with any décor and provides benefits rarely found in smoke detectors in this price range. Smart Check™ remote maintenance reporting automatically alerts the central station when it is in need of service, and built-in drift compensation continuously corrects sensitivity variances caused by dust. The 5808LST is UL 268 listed for use in both commercial and residential applications.
Co Detector:

COSTAR® Model 12SIR 12VDC CO Alarm for Security Systems UL-Listed for Residential Use Low current draw: Standby 20 µAmp Non-latching alarm; Auto-reset with dual relays Operates from 32ºF to 120ºF, 15%RH to 95%RH
click here for more info on Co Detector's
Wall Mount Co Detector:

The ESL SafeAir Alarm Series is the only industrial-grade Carbon Monoxide (CO) alarm specifically developed for use in a monitored home security system. The units are designed to the same standards as CO sensing systems used to protect workers in industrial plants and hospitals. UL 2075 listing meets all the sensitivity testing requirements of UL 2034 and is approved for system use. UL listed Features:
Wireless Heat Detector:

Wireless fixed heat and rate-of-rise temperature sensor offers expanded fire detection and installation flexibility. It is ideal for hard to wire locations and applications that require more than smoke detection. With no wires to run,it's fast and easy to install. The 5809 combines both rate-of-rise and fixed temperature sensors. Fires typically cause a rapid rise in temperature in the surrounding area. The 5809's rate-of-rise thermostat senses the rise in temperature and signals an alarm if the increase is 15° or more per minute. A built-in fixed temperature sensor will also signal an alarm if the environmental temperature rises above 135°F. The 5809 is UL Listed (UL521) and CSFM approved for commercial and residential applications. .
Manual Pull Station:

Aluminum die cast Key reset and test Screw terminals Gold contact SPST ADA compliant UL, CSFM, MEA listed and approved Wire leads Allen screw reset
Whether you want all of these features in your home or just a few products,

Wire Excellence can design a system that suits your needs.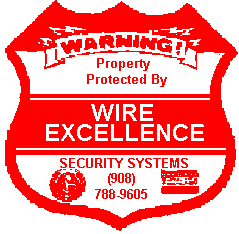 HOME
---
Please send any comments regarding this site to: Wire Excellence
This page, and its contents ©2010, by Wire Excellence Security. All rights reserved.